Pudsey has joined the fashion pack and become the most stylish bear du jour! Launched last week the Designer Pudsey collection 2012 has seen this bears profile rise and after being snapped in an array of outfits in both the London and Manchester Selfridges he is soon to become a national style icon. Thirty of the most coveted designers in fashion have each designed their own unique version of Pudsey- take a peek: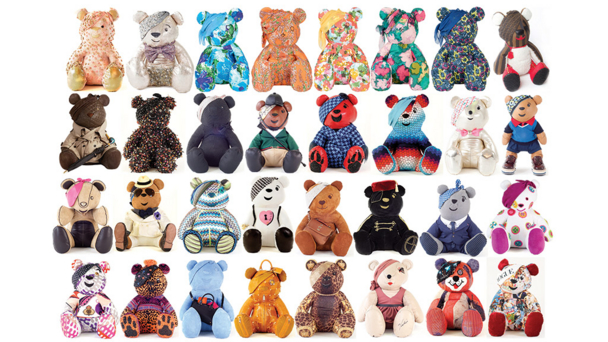 Super cute, colourful and stylish Pusdey has officially had a fashion make-over and the designers responsible are as follows –
Burberry, Vivienne Westwood, Paul Smith, Loewe, Sibling, Mulberry, Giles Deacon in partnership with Swarovski, Katie Hillier, Henry Holland, Louis Vuitton, Jonathan Saunders, Tom Ford, Alexander McQueen, Smythson, Victoria Beckham, Prada, Donatella Versace, Missoni, Pucci, Gucci, Norton and Sons, Diane Von Furstenberg, Fendi, Balenciaga, Anya Hindmarch, Vogue, GQ, Kate Spade New York and Selfridges.
With an array of styles, prints and even some swarovski crystals I can definitely confirm that Pudsey is on trend and ready for any event this season. Be the first in line to feast your eyes on these signature style, 28 inch, designer boutique bears at both the London and Manchester Selfridges from now until November 14th after which they will be auctioned off for Children in Need.
Don't they look great? Classic to cutting edge I love them all and wish I could afford to bid thousands for them, it is so worth the money to help out such a great charity and to also get a piece of fashion history.
For more information on the auction please click –  bbc.co.uk/pudsey.
Anya Hindmarch, Paul Smith and Selfridges have also created 10 inch limited edition Designer Pudsey's, which will be sold exclusively in Selfridges from 24 October 2012.
The designer Pudsey's look amazing, here are some of my favourites:
Gucci                                                                      Loewe                                                   Burberry
Tom Ford                                                     Henry Holland
I love these five bears in particular for their stand out individual styles, the Gucci equestrian chic Pudsey is very smart and on trend. I love the two tone Loewe Pudsey with the girly pink bandana and totes just love Burberry's English gentleman take on Pudsey with the mac and umbrella. Only Tom Ford would design Pudsey actual shoes and the dapper suit is complete with a bear bow tie – so cute! I also love Henry Holland's uber stylish Pudsey – made of real leather and channelling one of this seasons biggest trends – dogtooth, completed with the diamante detailing it's just fabulous darling!
I would also like to give a special mention to Balenciaga Pudsey who is not only beautifully designed with floral hues but also comes with four floral friends, complete for a teddy bears picnic!
Balenciaga Pudsey and friends – how cute!
Last year 14 designers re-styled Pudsey and raised over £50,000 for Children in Need, catching the attention of the fash pack and the public a like and the designer Pudsey's also made it into the The Independent's "Top 15 fashion moments of the year". This year 30 of fashion's most prestigious designers are involved and I hope the auction makes twice as much money for Children in Need.
Don't miss out on this iconic fashion moment – go and visit the Designer Pudsey Collection 2012 today at Selfridges and get one of the fabulous 10 inch bears for yourself, for more information on Children in Need and the Pudsey auction please visit bbc.co.uk/pudsey XOXO